Patients In Ashburn, Dental Care is Health Care
Like the old adage goes, if you don't have your health you don't have anything. In order to have good health – if you want to lead an active and energetic lifestyle for as long as possible – you absolutely need to take care of the health of your teeth and gums.
Brushing and flossing every day are excellent preventive measures, but only meet part of this aim. To take the best possible care of yourself, make sure you make your regular six-month appointment with your Ashburn dentist to clean and examine your teeth and gums. On occasion, complications may develop which require a specialist to resolve, or you may need dental implants, root canal therapy or even emergency dental care services. In all cases, Dr. Sameh Kassem, D.D.S., of Riverside Dental Family Dentistry is the Ashburn dentist to go to for open, honest, friendly, productive consultations and treatments.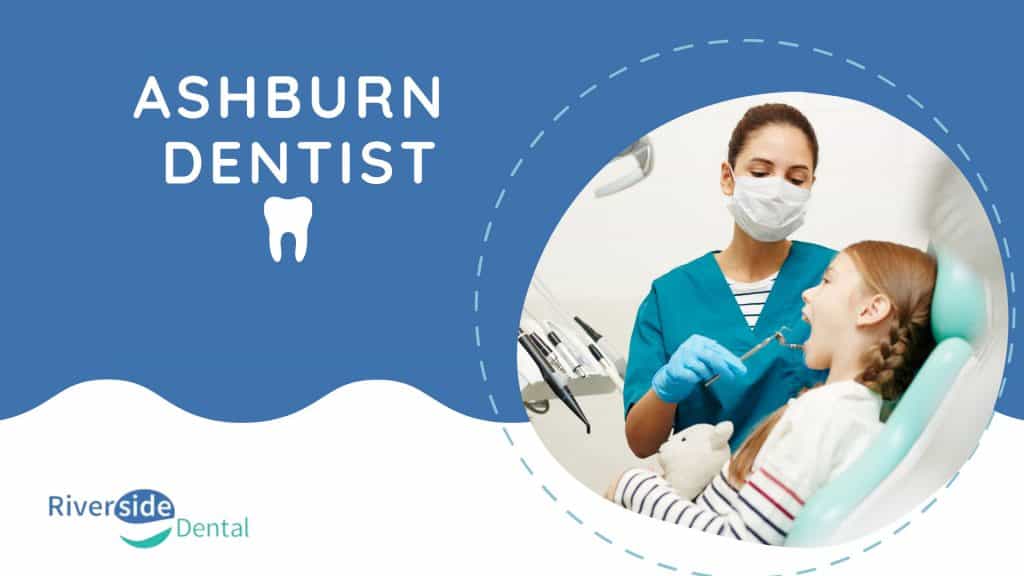 A Dentist Appointment Is an Investment In Your Health
The connection between poor oral health, including maladies such as gum disease and tooth decay, is well documented. Retaining the services of a highly qualified Ashburn dentist like Riverside Dental – with educated, experienced technicians utilizing state-of-the-art dentistry technology to perform the full menu of dental services, from periodontal disease treatment to teeth whitening – is essential for feeling good and looking good.
Basically, going to the team at the Riverside Dental office for your Ashburn dental care gives you even more reason to smile. Contact us at 703-682-0000 for an appointment.
State-Of-The-Art Environment For the Comfort of Every Patient
While dentists provide effective dental care (and therefore good healthcare) for your entire family, we realize that going to the dentist office isn't everyone's favorite thing to do in Ashburn VA or around Loudoun County. In Ashburn, dental care is much like dealing with the DMV. You know you need to, but that doesn't mean you want to.
Sedation Dentistry, Cosmetic Dentistry and More
Riverside Dental goes beyond the ordinary to create a comfortable experience for every patient. Dr. Sameh Kassem, D.D.S., and his team know modern dental science and oral surgery treatments very well – but being the premier dentistry practice in Ashburn VA means we provide patients of all ages with superior dental care that's Friendly, Professional, Caring. That's why our dental services rate a 5-Star average from more than 50 online reviews.
Dental Services For Patients Young and Young At Heart
Got young children? You'll want to bring them in for a dental examination as soon as possible. As they grow, the dentist will monitor them to see if there's need for cavities filled or teeth removed. They may also require braces to straighten out crooked teeth, or those darn wisdom teeth could start to erupt in the mouth of a teenager, and need to be removed. (The teeth, not the kid.)
Or maybe you are, shall we say, getting a little long in the tooth yourself? A good dentist is a great thing for seniors in Ashburn to have on hand. As we get older our body naturally becomes more susceptible to disease, and that includes gum disease and tooth decay. Thanks to the latest dentistry techniques like the services offered by Riverside Dental, nowadays your pearly white smile can literally last a lifetime.
Our Practice Is Focused On the Patient
At the Riverside Dental practice every patient, no matter how old, cares about one thing above all: Impeccably reliable dentistry services that make your mouth and jaw work great, your gums strong and your teeth shine. That means things like dental implants, root canals, teeth whitening, cosmetic dentistry – and it's smart to have a relationship with a preeminent local Ashburn dentist who'll expertly oversee your dental health for years to come.
Call Riverside Dental, the Top Dentists In Ashburn VA
Dental care is an inextricable part of your overall health. You cannot have one without looking after the other. Riverside Dental has the state-of-the-art equipment and experienced team that's best suited to provide both kids and adults with the personalized, friendly dental care needed to maintain optimal fitness.
New patients and returning patients in Ashburn VA 20147 and Ashburn VA 20148, make your next dentist appointment with Dr. Sameh Kassem, D.D.S., and the team of dentistry professionals at the Riverside Dental office. Please contact us at 703-682-0000 or set your appointment online by clicking the Request Appointment button in the upper right of this page.
A Dentist In Practice To Serve Loudoun
Riverside Dental accepts most forms of major insurance, financing is available, we adhere to a privacy policy to protect your health information, and our dentist office is pleased to serve patients coming from Ashburn, Leesburg, Lansdowne, Reston, Belmont, Sterling and Potomac Falls.
The Ashburn Dental Office Committed To Total Health
You want your kids to have the healthiest start in life, and you also want to keep up a vibrant lifestyle for as long as you can. Both are possible – if you rely on Riverside Dental as you cosmetic dentist in Ashburn VA for restorative dentistry, and general dentistry…and brush your teeth.